Not sure where to even start?
Then this is the place for you.
You can create a test ACH/Nacha file for your bank in 5 easy steps:
1. Create a new account in ACH Universal
2. ACH Setup
3. QuickBooks Online Wizard
4. Enter banking information
5. Create a test file
1. Create a new account in ACH Universal (File > New > Create)
On the main menu, click on File, then New Account, then leave the option button for 'Create'. Click Next.

Note: If you are working on a multi-user platform, our Workgroup (SQL Express) or Enterprise (SQL Server) - see SQL.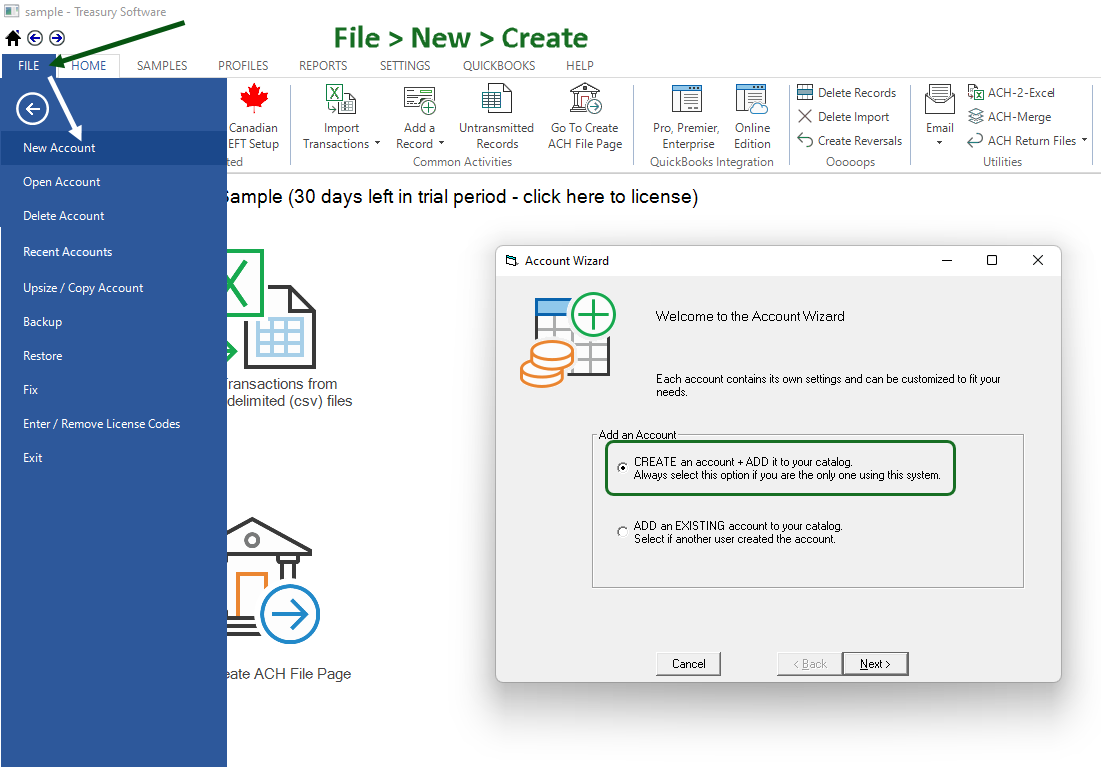 Then enter a name for your account. You will want to be able to identify the bank account name (e.g., Operating or Payroll). Click Next, then Finish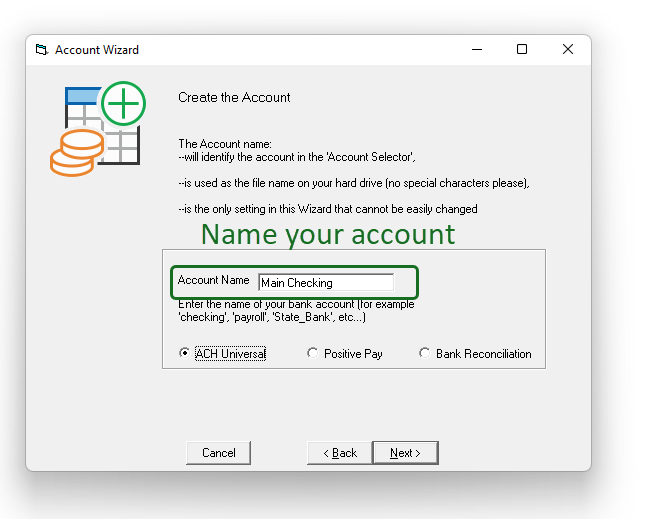 Congratulations. We'll be working in this account going forward.
2. ACH File Setup
In-house testing?
If you are simply performing in-house testing (such as IT testing), you can skip this step, as you can create ACH files without entering this information. Go to step 3.

Testing with your bank?
If you will be testing with your bank, you will need to perform this step prior to creating the files that you send to them.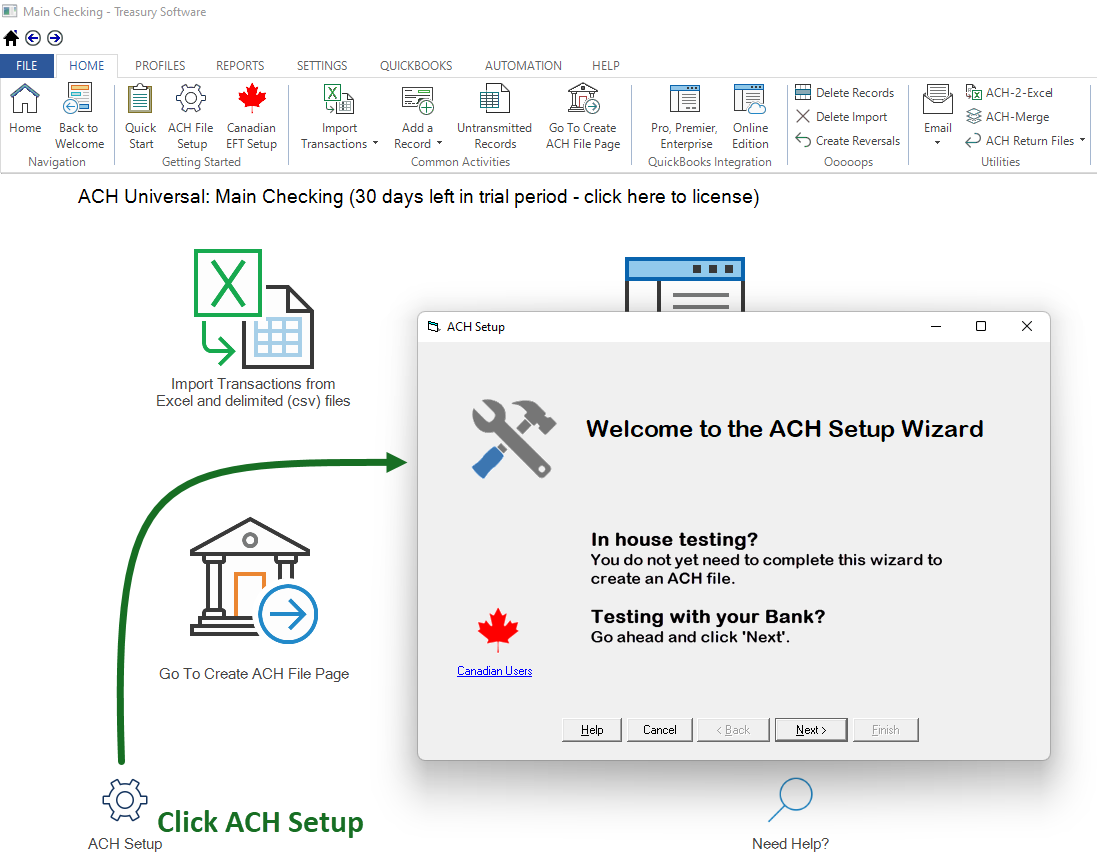 If you already signed up with your bank for ACH service, this information will be in your Welcome packet.
If you have been creating ACH files, but do not have the original documentation form your bank, ACH Universal can pull this information off of a file that you have already created.
If you have neither documents above, follow our guidelines within the wizard below. Of course, we can't guarantee compliance with your bank, but it is a very conservative approach to start.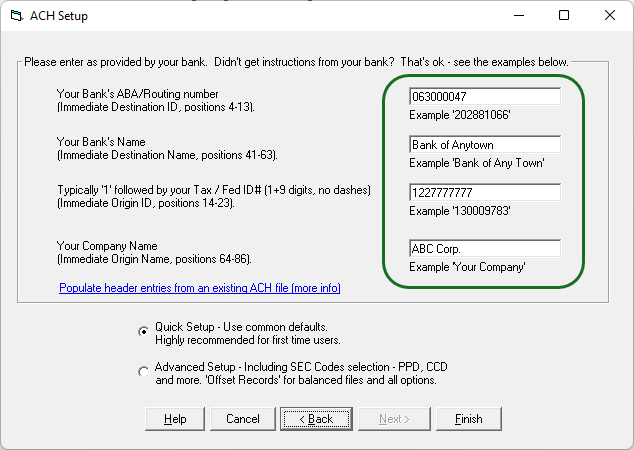 Most (basic) users can click 'Finish' to complete.

However, if any of the following apply to you, you will want to enter into Advanced setup:
--Need to specify different batch (5 record) information
--Use an SEC code other than PPD
--Create an offsetting record (ie. balanced file)
or any other advanced feature.


3. QuickBooks Online Wizard
On the Home Page - click the large QuickBooks Online Integration Window.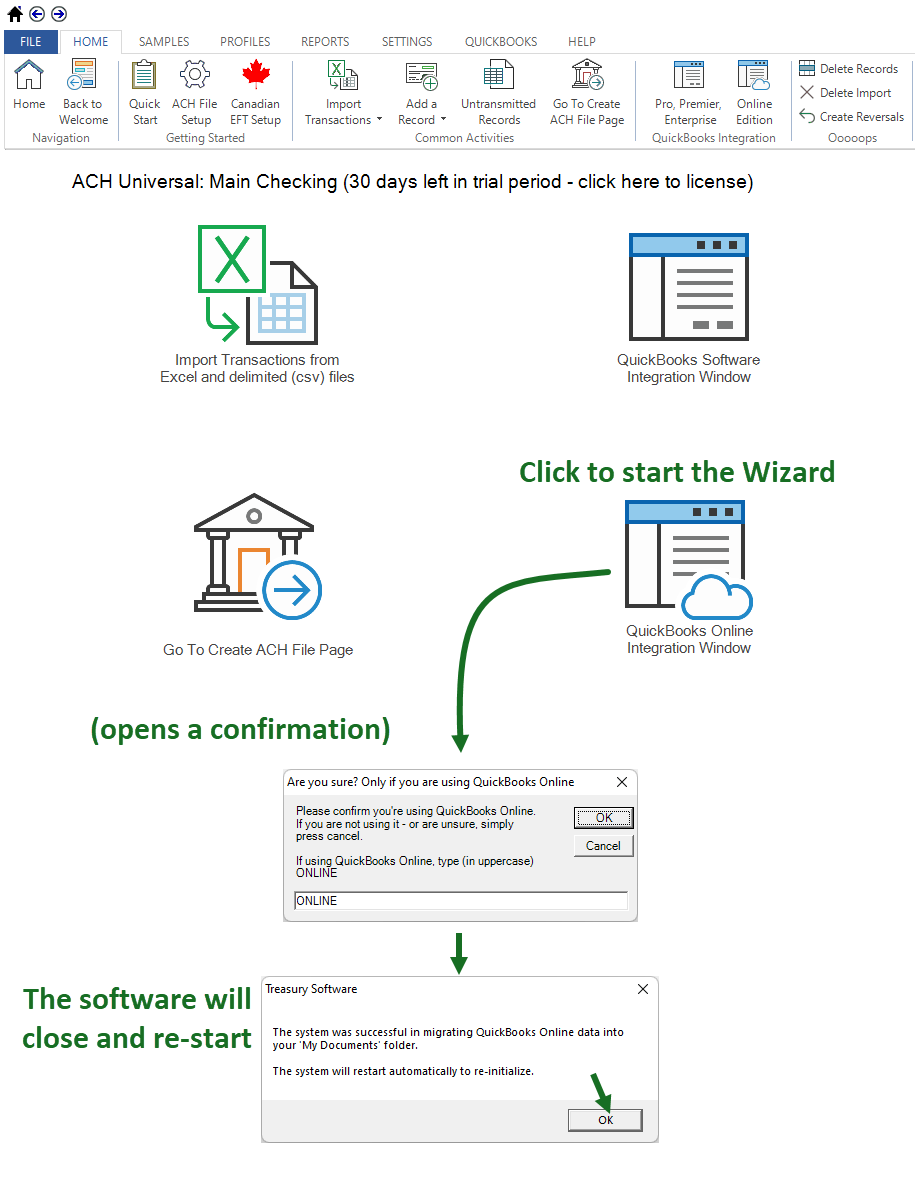 Connecting to QuickBooks Online - Setup
After the software restarts, simply click on the QuickBooks Online Integration Window to arrive at the screen below.
Then click on the 'Connect to QuickBooks' button on the QuickBooks Online Integration Window to initiate the authorization process.
Note: You must have Admin rights in the QuickBooks Online company file.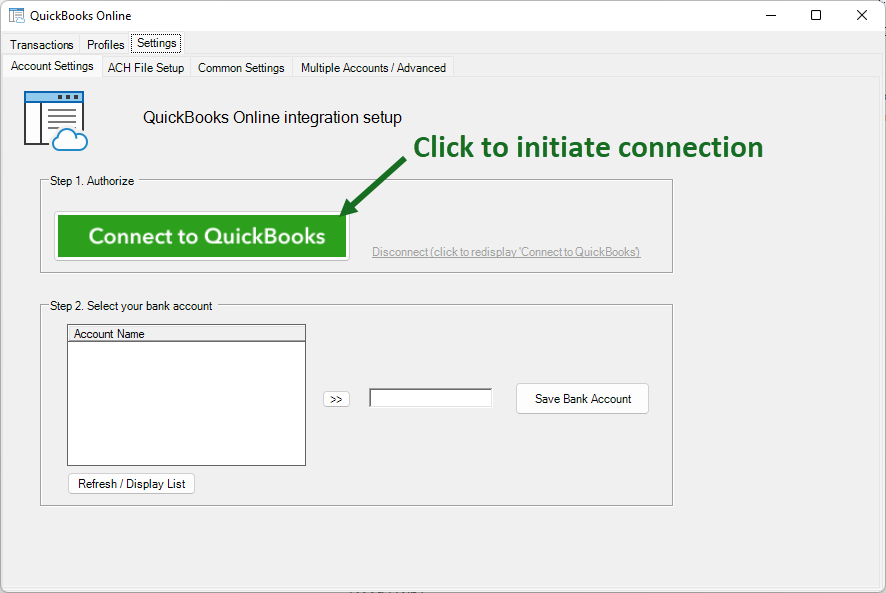 Your default browser will open and prompt you to log into your QuickBooks Online Account.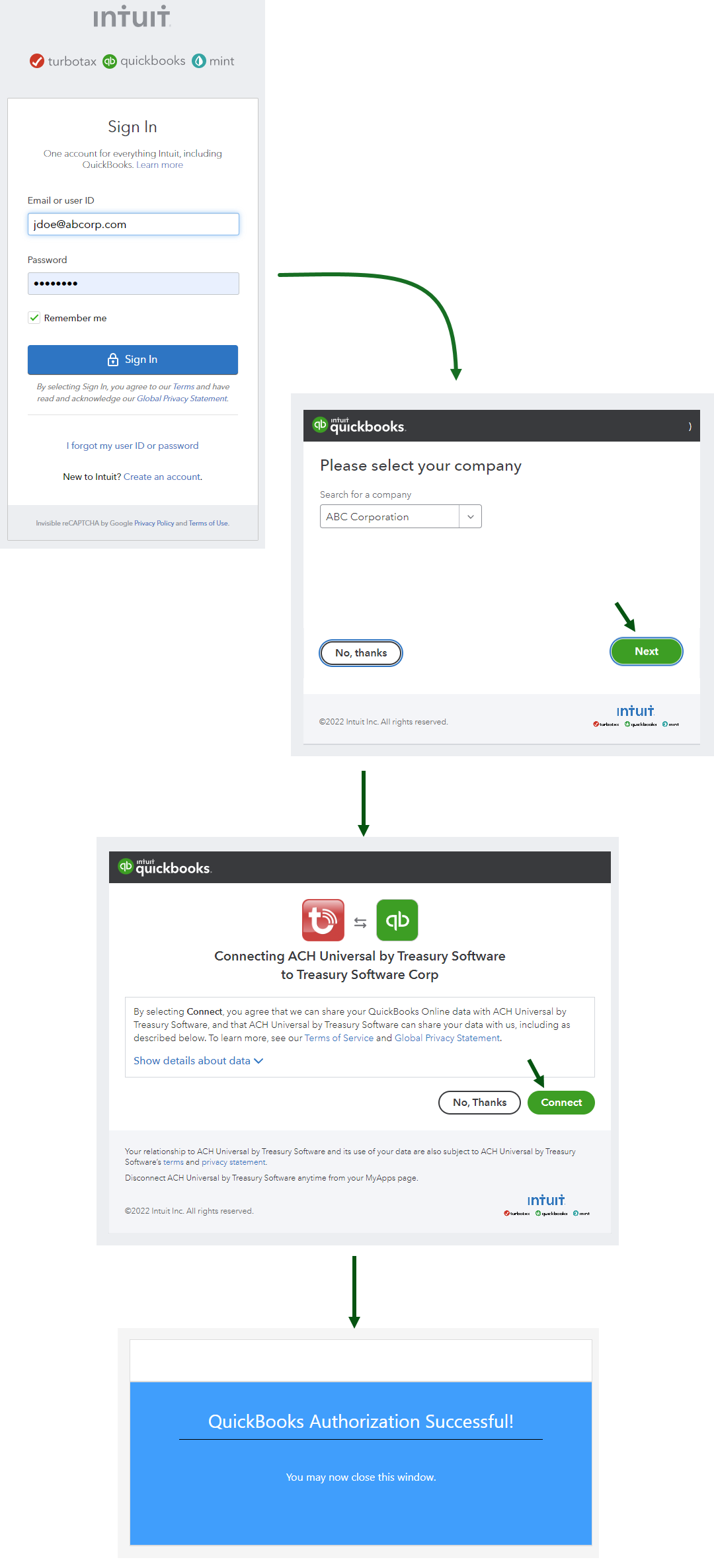 When you see this message pop up on a new screen, go back to ACH Universal.

Selecting an account from QuickBooks Online - Setup
Now, switch back to our software.

Select a bank account to work with from your QuickBooks Online Company and click 'Save'.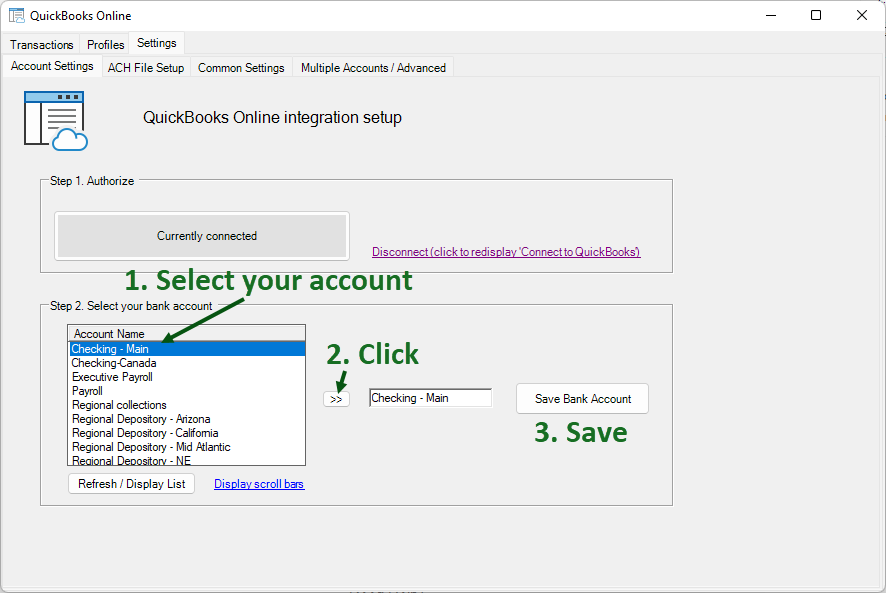 When you click Save, you will be brought to the Transactions tab.
Working with Transactions from QuickBooks Online
On the Transactions tab, select a date range that has transactions in your account and click 'View'.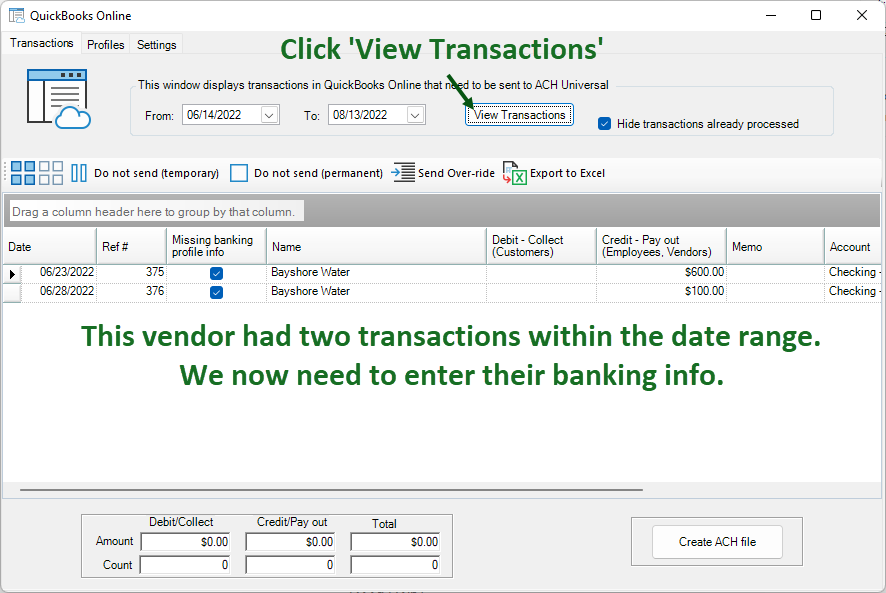 4. Enter banking information
Profiles are automatically created / added when you click 'View Transactions' from the Transactions tab.
If a profile already exists for the Customer/Employee/Vendor - no profile is added.
If a profile does not exist, the system will create one.


A profile containing only the vendor's name was created. We'll need to enter their banking information and save.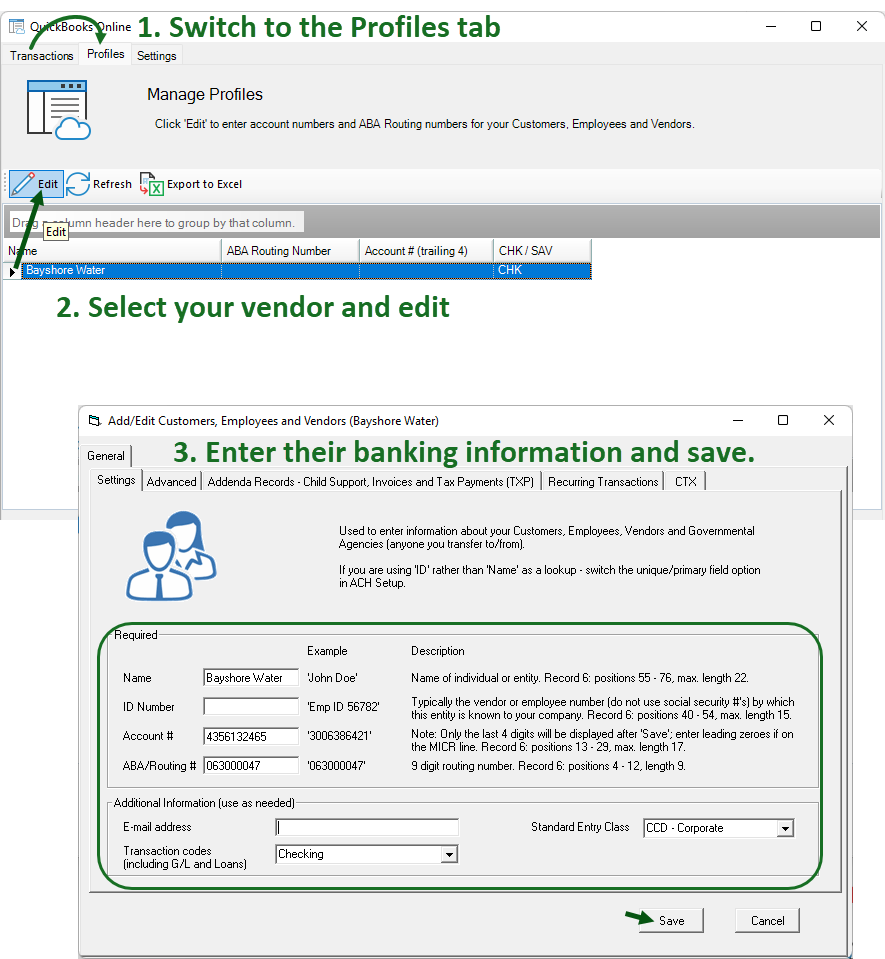 In addition, there are other ways to create and populate profiles. If you already have an Excel or CSV file that contains this data - please see 'Importing Profiles'.
5. Create a test file
Now when we re-run transactions - they are eligible to be included in an ACH file.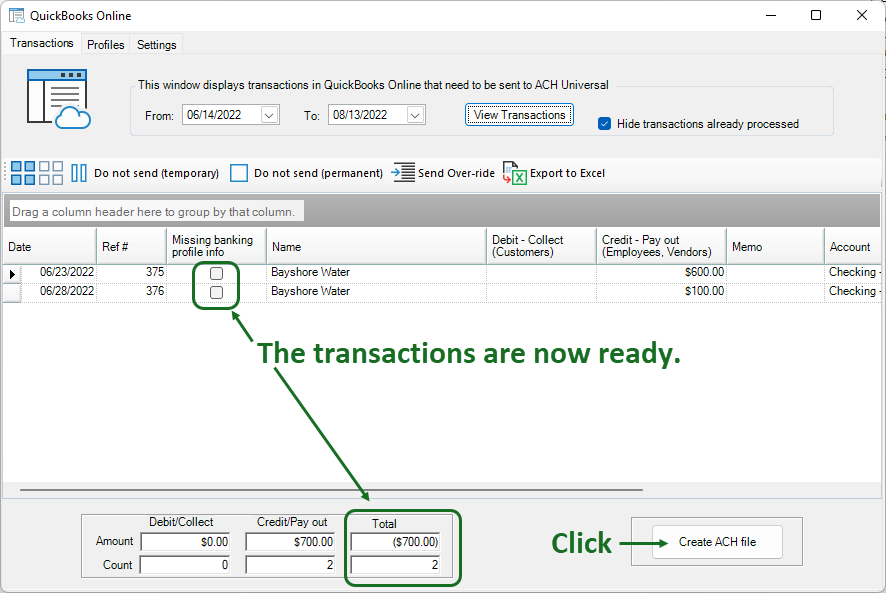 Sure why not - let's view the file.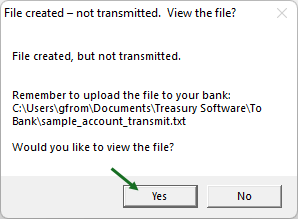 This is the ACH File you created - and is stored locally on your computer.
If you're ready to test - upload the file to your bank for processing.

Upload the file to your bank. By default the file will be located in the folder:
C:\Users\Public\Treasury Software\To Bank
Need help or want to schedule a call to get setup?
Click here to schedule a Zoom setup call.
Intuit and QuickBooks are registered trademarks of Intuit Inc. Used with permission.