The ACH network started accepting same-day transmission files on September 23, 2016 (for Originator's credits/payments out).
On September 23, 2017, the ACH network began accepting same-day transmission files for Originator's debits/deposits in.

Important concepts with Same-Day ACH:
--The effective date has always, and will continue, to control whether it is same day or not.
--The features noted here are to satisfy the requirements of many banks that are requiring the cutoff code in the descriptive date field (positions 70 - 75) of the batch header (5 record).

1. Setting the effective / transaction date
If you are including a date within your import file, simply map the field as 'Date'.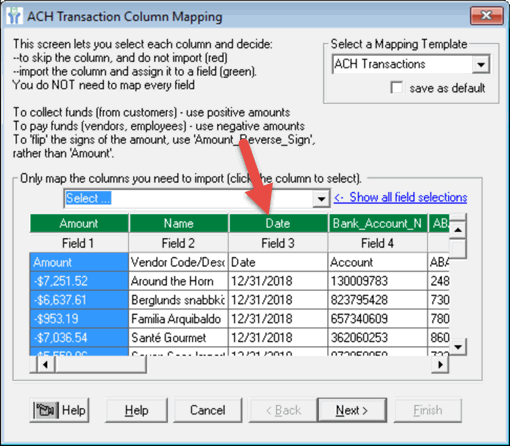 If you do not have a date within your import file, the system will use the default date. To set the default date, start the ACH File Setup Wizard and update the default date on Screen 5 to read 'Same Day'. (You will need to click through the 'Advanced Setup' to get to Screen 5 of 7.)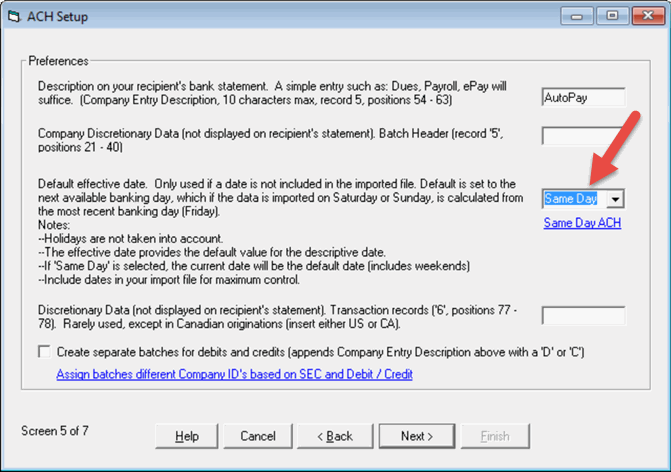 2. Populating the batch header's descriptive date field (70 - 75) with a cutoff indicator.
In addition to setting the effective date to today, many banks will want you to insert a cutoff indicator into the batch header.
This indicator will either be a code for Same Day at 1:00 p.m. (SD1300) or for 5:00 p.m. (SD1700):
--SD1300
--SD1700

If you need to set this field with the cutoff time indicator, navigate to the Same Day ACH options in the toolbar and check the top box, and select a default cutoff time.

Notes:
--ACH Universal will only insert the default cutoff indicator for those transactions that have an effective date for that day and that are not IAT (International) transactions.
--International transactions are never valid Same Day ACH transactions.
--The NACHA Rules are phasing in debits and credits over a three year period and currently have a $25,000 transaction limit.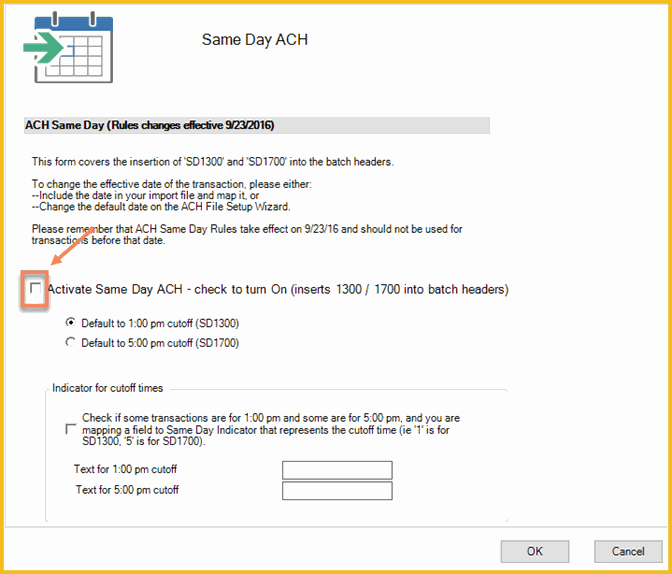 Rare - Mixing cutoff times
If you need to specify some transactions for the 1:00 p.m. cutoff and some for the 5:00 p.m. cutoff (rare), you can map the column as the "Same Day / Descriptive Date" field and populate that field as either SD1300 or SD1700. Each record must be populated.

If your in-house system is unable to prepare the file with SD1300 and SD1700, but can create an indicator, you can enter this into the Same Day ACH Option window as well.
Each record must be populated.