Treasury Software will automatically allow for weekend dates when files are created, but will not automatically allow for holiday dates.
On major holidays, when banks are closed, it will be necessary to date the ACH file before or after the holiday date, or the file may be rejected by the bank.
Major U.S. holidays include:
--New Year's Day

--Martin Luther King, Jr. Birthday

--Washington's Birthday

--Memorial Day

--Juneteenth

--Independence Day

--Labor Day

--Columbus Day

--Veterans Day

--Thanksgiving Day

--Christmas Day
You may go into the ACH File Setup, click through the Advanced tabs to Screen 5 of 7 and, using the dropdown, change the default effective date from 'Next Day' to 'Two Days', for instance, then click through until 'Finished'.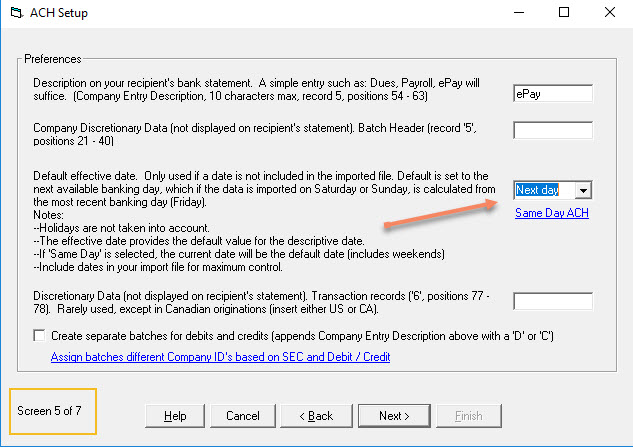 Once the file is created, remember to go back into the ACH Setup and change it back to 'Next Day' (or the original setting chosen) and click through until 'Finished'.