Do you want to pay your employees with a pay card? No problem.
ACH Universal enables you to electronically pay your employees, whether they have a bank account or a pay card.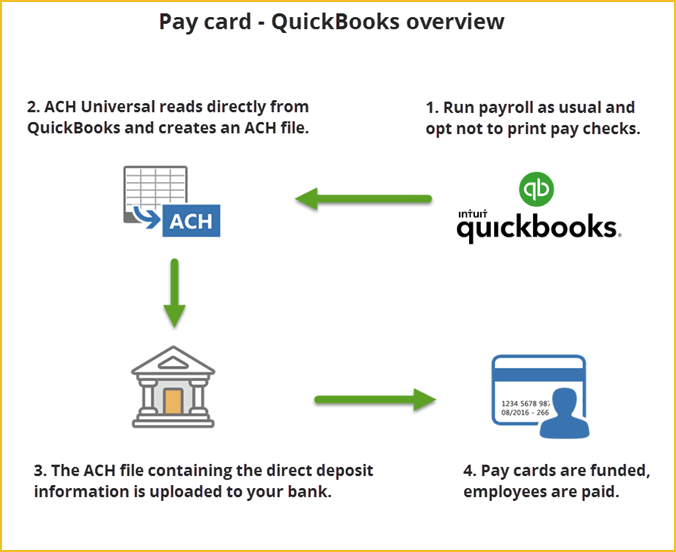 What's a pay card?
A Pay Card is a reloadable debit card, with either the Visa or MasterCard logo.
It is an alternate way for employees that do not have bank accounts to receive their pay electronically. It takes the place of paper paychecks and works in a similar manner as a debit/credit card.
Each payday the Pay Card is reloaded with the employee's net salary and employees have the option of withdrawing money from ATM's or using it to purchase goods and services.
I'm working with a pay card provider now - what are the next steps for me?
1. Contact your pay card provider for account information.
Your pay card provider will provide you with the details on how to pay your employees. In other words, they will explain how to 'load' each card with the employee's net pay. This information will include
--the Routing Number (also known as the ABA number) of the bank processing the cards
--each employee's name
--a unique account number for each pay card
2. Contact your bank to request ACH file service.
Call your bank and ask for the Treasury Services department.
Once you are speaking with a representative from the Treasury Services department, let them know that you would like to upload an ACH ("NACHA") file. Explain that this will be used for ACH payments (credits).

Tips:
--When calling your bank's Treasury Services department, avoid the use of the terms 'payroll' and 'direct deposit' as they may transfer you to the wrong department (they may provide payroll services like ADP and Paychex).
--Do not call or visit your local branch as they are typically focused on retail/consumer banking, as opposed to business banking, and may not be familiar with ACH file services.

Once you are signed up for ACH File service, they will provide you with certain information that needs to be included in an ACH file.

Once you have the information from #1 and #2 above, proceed to the next step.
3. Set up ACH Universal
Our support staff can walk you through the following two steps. In addition, the software has built-in training videos which cover these two steps:

a. Run the ACH File Setup Wizard to enter key banking information.

b. Enter your employee's account information
Within ACH Universal, you'll run the QuickBooks Integration Wizard, which will create three fields in each employee's profile within QuickBooks.
Bonus: The software can also create these fields in your vendor and customer profiles so you can pay and collect from these groups as well.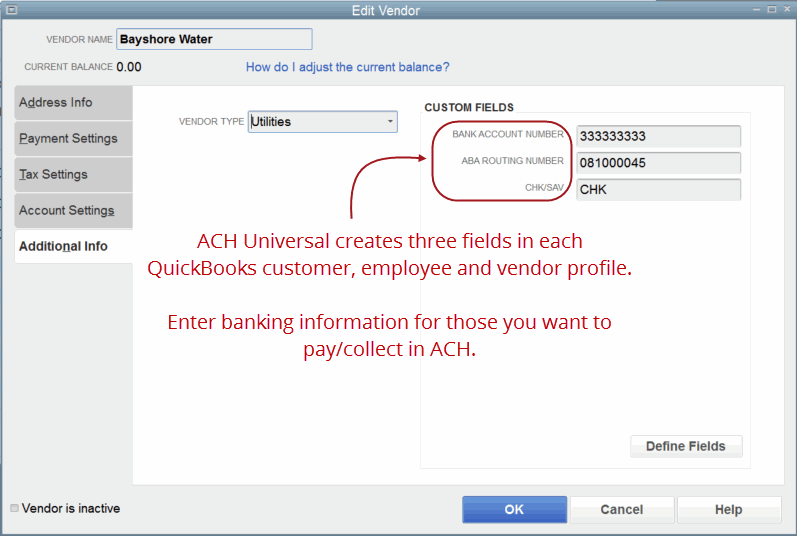 Intuit and QuickBooks are registered trademarks of Intuit Inc. Used with permission.