Additional information can be added to the body of your emails that are sent for payment notifications or collection notifications.
By default, the sample email provided in the Setup includes the [AMOUNT], [DATE], [NAME], [ID], [ADDENDA], and [CHECK_STUB].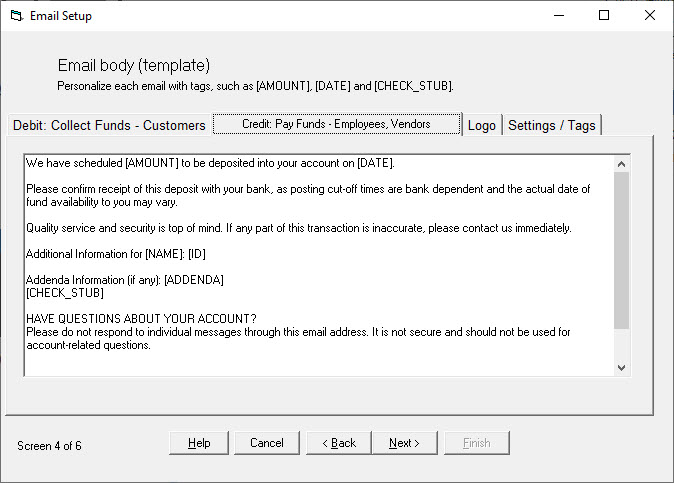 Below are the tags you can use in email notifications to tailor each email to the individual recipient. To use the tag, insert it into the appropriate space in the email.
Using QuickBooks Integration:

Using Excel or CSV Import:

[EMAIL]
[ID]
[QB_REF]
[ID_LAST4]
[QB_REF_ALL]
[MEMO]
[QB_MEMO_LINE]
[EMAIL]
[QB_PROFILE_NAME]
[ABA]
[Email_Body_Field1]
[Email_Body_Field2]
[ACCOUNT_LAST4]
[BATCH DESCRIPTION]
[ACH_CHECKINGORSAVINGS]
[ADDENDA]
[CHECKNUMBER]
(for ARC, BOC, POP, RCK)