Troubleshooting
The transactions won't come over from QuickBooks to ACH when I click "View Transactions"--What is wrong?
--Are you connected to the correct bank account in QuickBooks Online?
--Were checks written/bills paid from the correct bank account?
--The items to import must completed transactions that appear in the QuickBooks Bank Register. If bills have not yet been paid, for instance, ACH will not find the transactions.
--If collecting funds and both debits and credits are showing after integration, you are connected to a bank account and are seeing both the Received Payment (debit) and the Bank Deposit (credit).
1. You can highlight the rows with credit transactions and mark "Do not send"; or
2. If you are using ACH Universal version 2019, Build 909 and higher, you can click the Settings tab inside the QuickBooks Online integration wizard, and connect to the Undeposited Funds account (rather than the bank account) and this will only pull the debit transactions.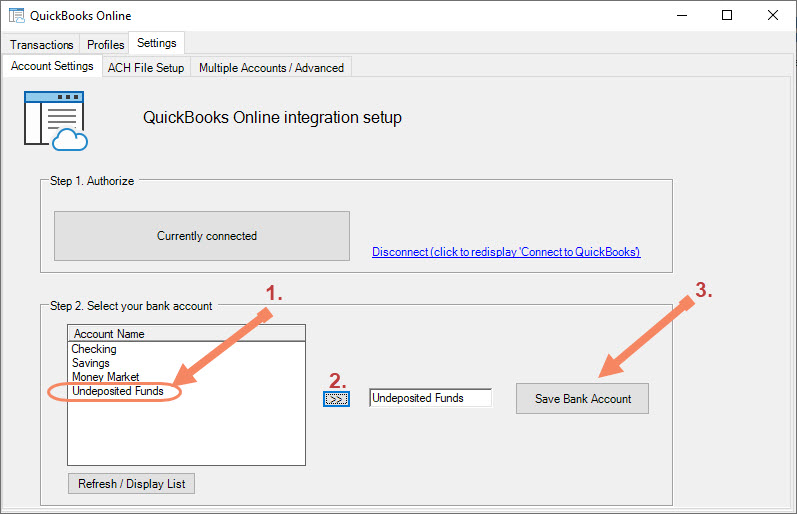 If transactions come over to QuickBooks, make sure their profile in ACH Universal has banking information stored or "Missing bank information" will be marked after integration.
If you are using QuickBooks Online 2017 (or earlier) and have issues integrating with Treasury Software, you will want to upgrade Treasury Software to the most current software, Version 2018-Build 821 or higher. QuickBooks Online began enforcing their TLS 1.2 requirement in mid-December 2019.

NOTE: Customers with traditional licenses will need to have a valid Support subscription to be able to upgrade without an additional fee. A new license will need to be issued if you are not currently using version 2018--please contact us. You can find the Treasury Software version you have installed by clicking 'Help'->'About' in the software.
In addition, it is possible that Treasury Software is fine (2018 is TLS 1.2 compliant), but your operating system is not up-to-date.
To check your operating system, open the web browser that you use to connect to QuickBooks Online and enter these URLs:
https://tlstest.intuit.com (You should see a blank page with the word 'Success'.)
https://tlstest.intuit.com/1_2.json (You should see "status": 200, "message": "Success! over several lines.)
Intuit and QuickBooks are registered trademarks of Intuit Inc. Used with permission.