Troubleshooting
 The transactions won't come over from QuickBooks to ACH when I click "View Transactions"--What is wrong?
--Are you connected to the correct bank account in QuickBooks Online?
--Were checks written/bills paid from the correct bank account?
--The items to import must completed transactions that appear in the QuickBooks Bank Register.  If bills have not yet been paid, for instance, ACH will not find the transactions.
--If collecting funds and both debits and credits are showing after integration, you are connected to a bank account and are seeing both the Received Payment (debit) and the Bank Deposit (credit). 
      1.  You can highlight the rows with credit transactions and mark "Do not send"; or
      2.  If you are using ACH Universal version 2019, Build 909 and higher, you can click the Settings tab inside the QuickBooks Online integration wizard, and connect to the Undeposited Funds account (rather than the bank account) and this will only pull the debit transactions.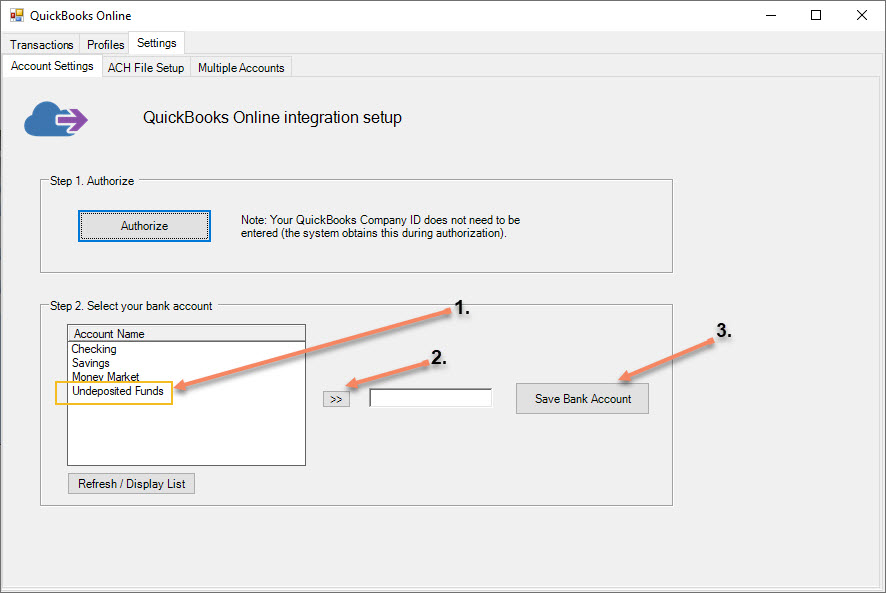 If transactions come over to QuickBooks, make sure their profile in ACH Universal has banking information stored or "Missing bank information" will be marked after integration.