Sometimes users will change from QuickBooks Desktop (installed) to QuickBooks Online--and there is a direct integration for both versions of QB in the software, however, Treasury Software works a little differently when integrating with the Online version of QB.
If you have been using QB Desktop and the banking information for vendors/employees/customers has been stored on their Profiles, you'll want to create a Customized Report of that information to import into ACH Universal. QuickBooks Online does not have a place for banking information, so the Profiles (names, bank account info, email addresses, etc.) needs to be stored inside of ACH Universal.
To create a customized report of QB Desktop profile information
In QB, go to Reports->List->'Contact List' (for vendors, employees, and/or customers--each is a separate Report).
Pull up the Report and then click on the 'Customize' button and put a checkmark next to these 3 fields to include in the Report:
Bank Account Number
ABA Routing Number
CHK/SAV
(You can uncheck any fields not needed, such as address, phone number, balances, etc.)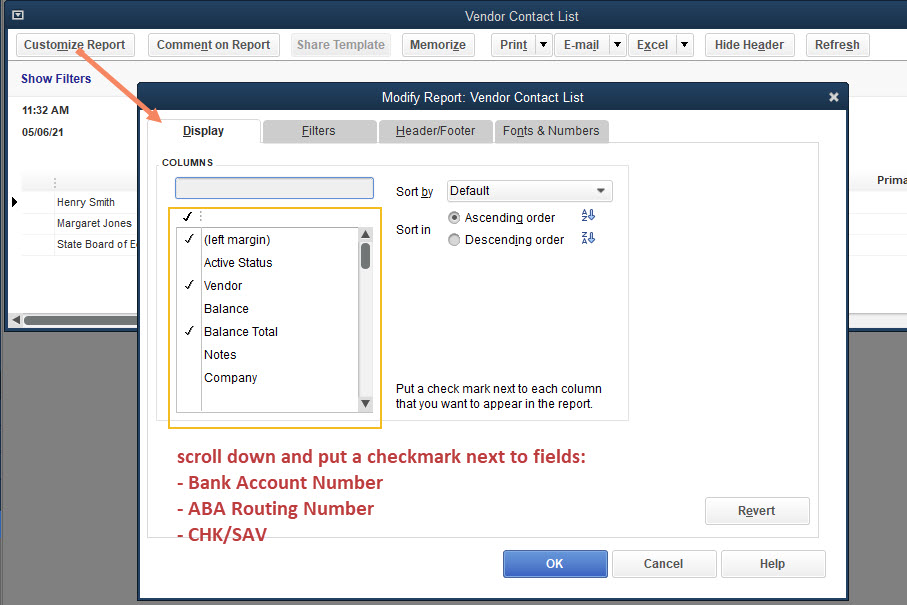 Once the Report is available, you will click on the 'Excel' option and flip the information into Excel format.

'Save As' in a place that you can access from Treasury Software.
In Treasury Software
Create a new account in Treasury Software (File->New Account->Create an account... give it a new name, e.g., 'QBO_Checking', continue through the wizard until finished. The software will flip you into the new account.
From the new account, click on File->Upsize/Copy Account. This will create a mirrored copy of your QB Desktop (original) account. https://help.treasurysoftware.com/hc/en-us/articles/360010681294-Copying-Settings-from-an-Existing-Account
Click on the Profiles tab, and then 'Import' --and select the file you had saved from the QB Report.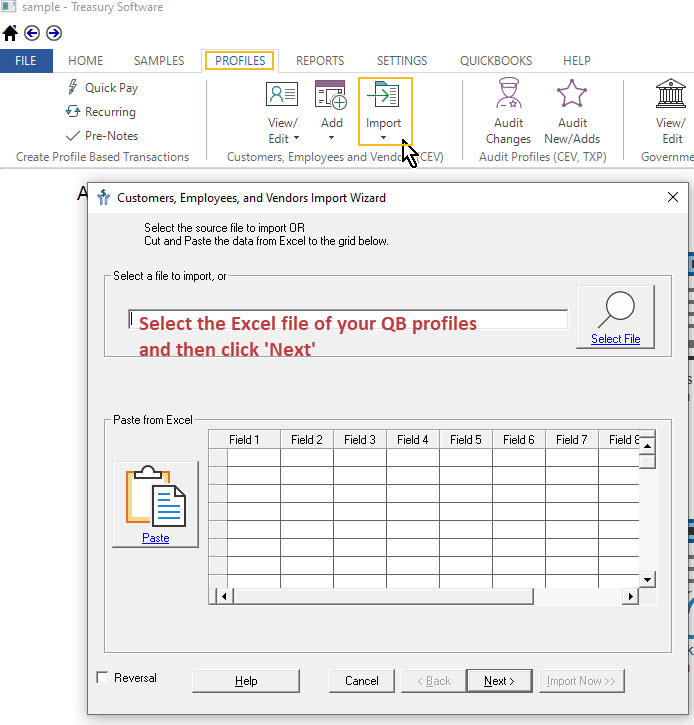 Continue through the import wizard, following these directions: https://help.treasurysoftware.com/hc/en-us/articles/360010353973-Creating-and-Using-Profiles
(In addition to importing Profiles, you can also add one Profile at a time using the 'Add' icon.)
Once you have finished the import, you can see all of the Profiles imported by clicking on the icon above the 'View/Edit' link.

When using the QBO Integration (cloud icon), the system will look to the QBO bank register and the Profiles stored in ACH Universal, and--as long as the names match exactly--you can create the ACH file with that data.