The goal of 'Site and Type' rules is to help minimize false positives (matches), by assigning additional classifications to transactions.
For example, in a depository account, we might have two transactions, each for $100.
One might be an American Express deposit, the other an ACH transaction. To make sure that we don't accidentally cross-match the transactions, we add a 'Classification' attribute to each of these records.
Sometimes there is no common description information between the bank and G/L data--the formats are very different. First, identify a unique text or alphanumeric text string that can be identified on one side (bank or G/L). Then, under the 'Site and Type Rules' in the ribbon bar, you will see the screen below.

The Rules screen (sample below) is based on the Microsoft Outlook Rules paradigm.
Each rule will search for text within the transaction during import. If it finds the text, it will classify the transaction to a type, copy text to a lookup field (for site assignment), or both.
Check the box to turn on the Rules. Add a row and assign that text string to a Classification; in addition, identify an equivalent text string on the other tab and classify it. There must be an entry at each tab--Bank and G/L. This will help the system match the two different data fields.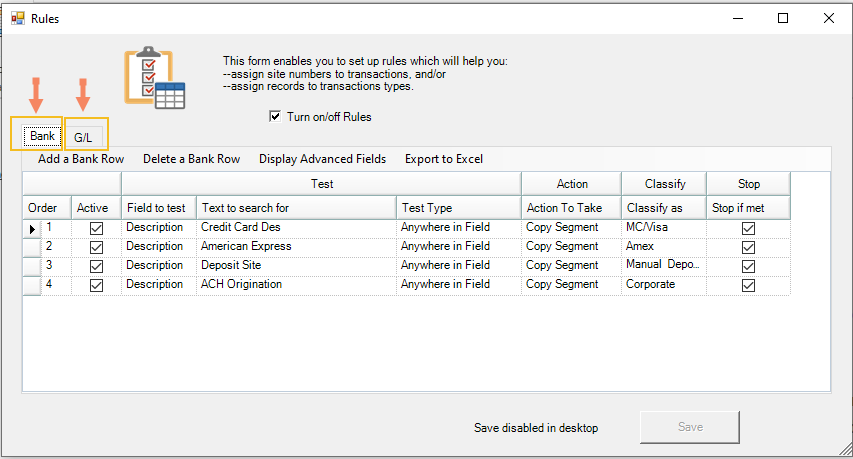 Please note: There are separate tabs/rules for Bank and G/L. It is important to assign a classification row to both sides (i.e., at both tabs).
For instance, the bank side may show 'Credit Card Des' for Visa/MasterCard transactions, but the G/L side will show 'MC/VISA'. By identifying each text string as the same Classification, the two data items can be matched automatically by the system.
You can define the transaction types by clicking on the 'Transaction Types' icon on the Home tab of the ribbon bar. (These Types can be customized.)