The first step in using ACH Universal is to create an account to hold your imported data. This applies to both CTX and non-CTX codes. If you will be creating CTX as well as non-CTX files, it is recommended that you use one account for CTX-only transactions and one account for all other transactions.
Creating an Account
Create an account by selecting from the main menu File > New Account.
Format Selection
In the ACH Setup Wizard (lower left corner of ACH Universal), on screen 4 of 6, you will see below. Select the radio button for CTX-EDI Subsets. In almost every situation you will use EPN STP 820. Make sure it is visible in the dropdown box.

CTX Tab
On the final screen (Screen 6 of 6), select the CTX tab.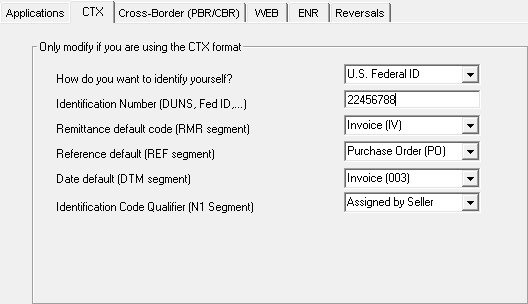 In the first dropdown box, select the method your organization is using to identify yourself at the transaction level. This is decided by your bank. Your choices are:
-US Federal ID Federal ID (or Tax ID) number
-DUNS Dun and Bradstreeet number
-DUNS plus suffix Dun and Bradstreet number with a mutually-agreed upon suffix string
Enter the ID number of the type selected into the textbox.
Leave the defaults for all other fields unless instructed differently by your bank.