ACH Universal encrypts account numbers using the most secure symmetrical encryption algorithm available (AES-256). AES is used by the U.S. and Canadian governments as their standards for encrypting data.
Hashing - Insertion/change protection
Each transaction record is hashed--and the hash is encrypted--to insure that records remain unchanged and that no records are inserted by circumventing the system.
Encrypting Account Numbers - Protects account numbers
The account number is hashed in the transactions table and the profiles table (if used).

To enable:
(Treasury Software recommends both)

Click on the Settings tab and then 'Encrypt Database'

The Database Encryption window will be displayed.

If using Excel, csv, SQL Server or QuickBooks Online - click the Encryption tab.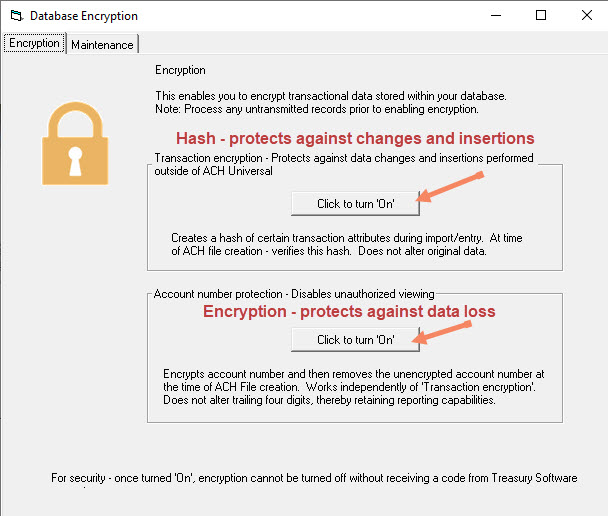 Notes:
--Either feature may be enabled at any time.
--To maintain security - once turned 'On', the features require Treasury Software Support to turn 'Off'.
--These features are available in all platforms (Desktop, SQL Express and SQL Server), as well as all editions.
Reminder: All Treasury Software security is applied on an account by account basis.