To unmatch records, run a report that displays at least one member of the match group that you want to unmatch.
1. From the Reports window run one of the following reports:
--All Records
--Bank only
--G/L only
2. Select at least one member of the matched group that you want to unmatch.
3. Click on the unmatch icon (the green 'undo' arrow) from the Reports toolbar.

The records are now unmatched.
If the records were matched by the system (Automated Transaction Matching)
When you enter into the Reports window--or the Manual Matching window--the system will re-run the Automated Transaction Matching process again (by default).
If you do not turn off the default behavior, the system will simply rematch the records, undoing the work you've done in steps #1 through #3 above.
To turn off the ATM process, from the top menu select Settings > Import,System > Match tab.
Change the options below as needed.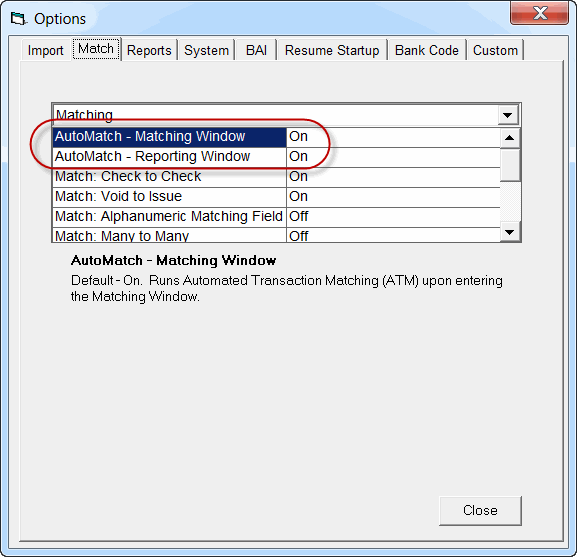 Notes:
--If you turn off the ATM (per above), you can always run ATM from the main window.

--If you manually matched the records, you do not have to turn off the ATM to prevent them from being matched.
--If the account has reconciled periods, the unmatched records cannot be in a reconciled (or earlier) period.