At the top of the Report Creator is the toolbar (below). Each button in the icon offers quick access to features commonly used when working with reports.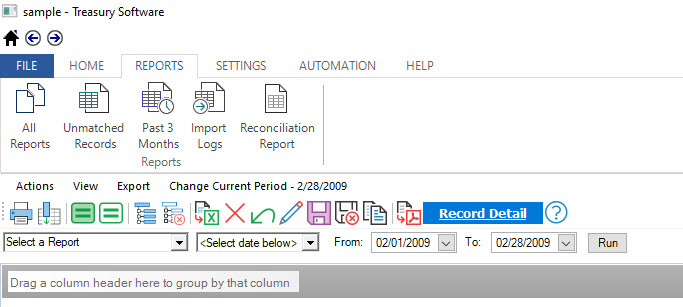 Running a report
In the upper left, change to a different report by using the dropdown box (currently reads "Select a Report").
Changing date range
Select the appropriate date range from the dropdown box. Some reports are period-sensitive. If so, change the system period by clicking "Current Period - 2/29/2009" (will display current period ending date selected, in this case 2/29/2009)
Saving a report layout
If you will repeatedly use the same report on similarly-formatted data, you can save the exact field groupings using the User Layouts menu. This will save you from having to regroup your report each time if you always want the same view.
Loading a saved layout
Select "Load User Layout" from the User Layouts menu.
| | |
| --- | --- |
| | Print |
| | Columns: Hide/Display, Group, Sort, Filter, Order |
| | Select all rows |
| | Clear selected rows |
| | Expand groups |
| | Unmatch records |
| | Export to Excel (all rows, visible columns) |
| | Delete |
| | Unmatch Records |
| | Edit |
| | Save User Layout |
| | Clear User Layout |
| | Copy selected rows and columns to clipboard (can paste into Excel) |
| | Export to PDF |
| | |