If your corporate environment is 'locked down' with DEP, please see the instructions below.
Please note that this is extremely rare, and you should consult with your IT admin before continuing.

If Treasury Software 'crashes' when launched, you may want to see if they have Windows DEP activated.

Here is a link to a website you can use to disable DEP and/or disable DEP just for our software (allow-list):
https://www.minitool.com/data-recovery/dep-data-execution-prevention-windows-10.html
Once DEP is disabled, the software worked well without issue.
How to add Treasury Software to the 'Allowable' list
Follow the instructions on the link above to get to the screen shot below.

Then click on 'Add' and navigate to and select:
C:\Program Files (x86)\Treasury Software\version 20XX 01\BRCOM.exe
(where XX is your version year)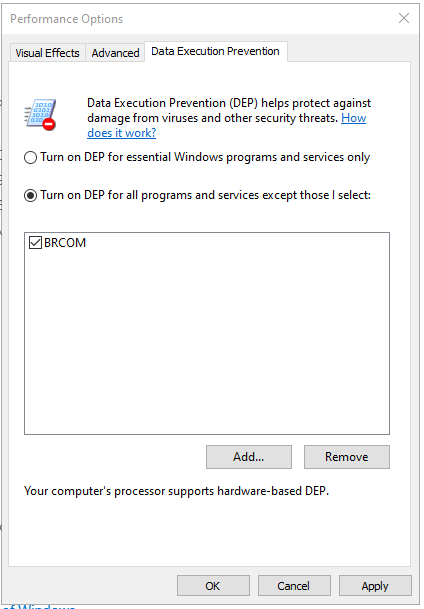 Click Apply and Close the Window. You will be prompted to restart your computer.