This help page walks through the ACH Universal demo for QuickBooks Online.
You will need our software and a QuickBooks Online account to follow along.



If you haven't already installed the software, please download and install the software .

When you start the software, you'll arrive at the Welcome New User Screen - click ACH Universal.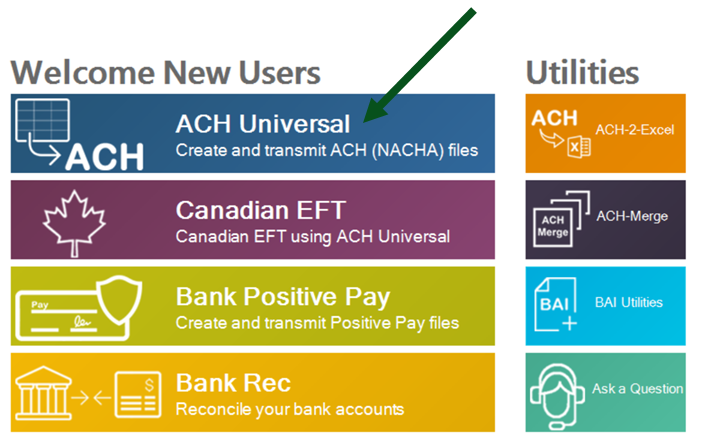 Let's skip the You Tube videos (you have this help page).
Click the Home icon to go to the program Home Page.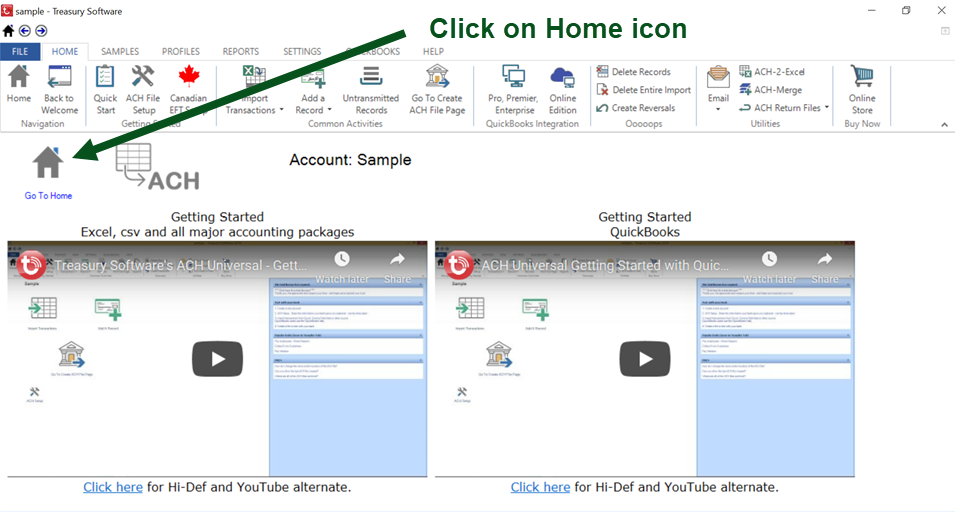 On the Home Page - click the large QuickBooks Online Integration Window.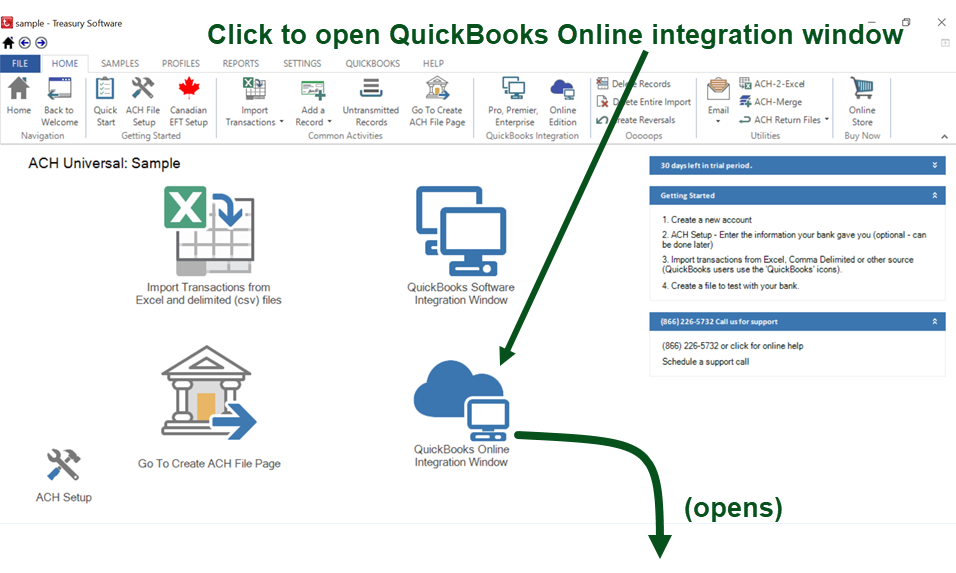 I. Connecting to QuickBooks Online - Setup
Then click on the 'Connect to QuickBooks' button on the QuickBooks Online Integration Window to initiate the authorization process.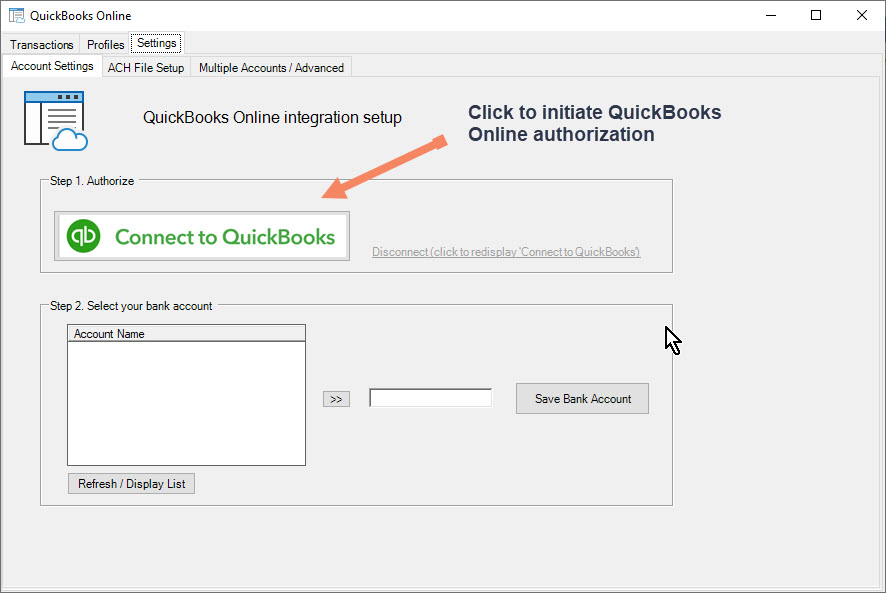 Log into your QuickBooks Online Account by entering your credentials and clicking 'Sign In'.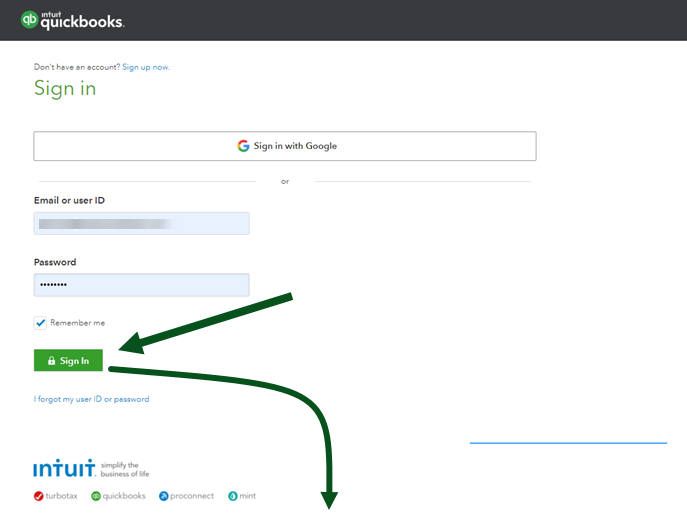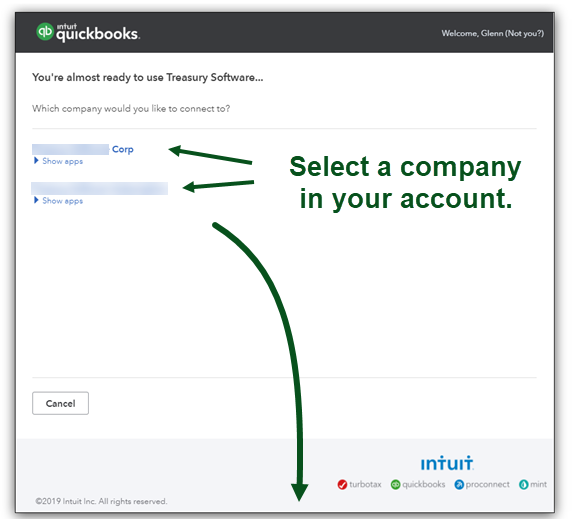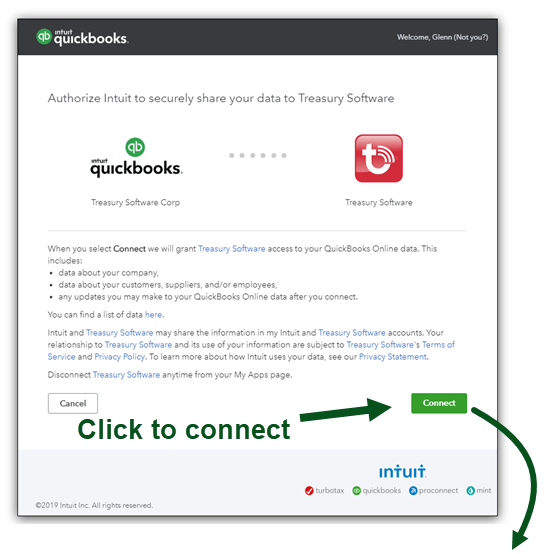 II. Selecting an account from QuickBooks Online - Setup
Now, switch back to our software.

Select a bank account to work with from your QuickBooks Online Company and click 'Save'.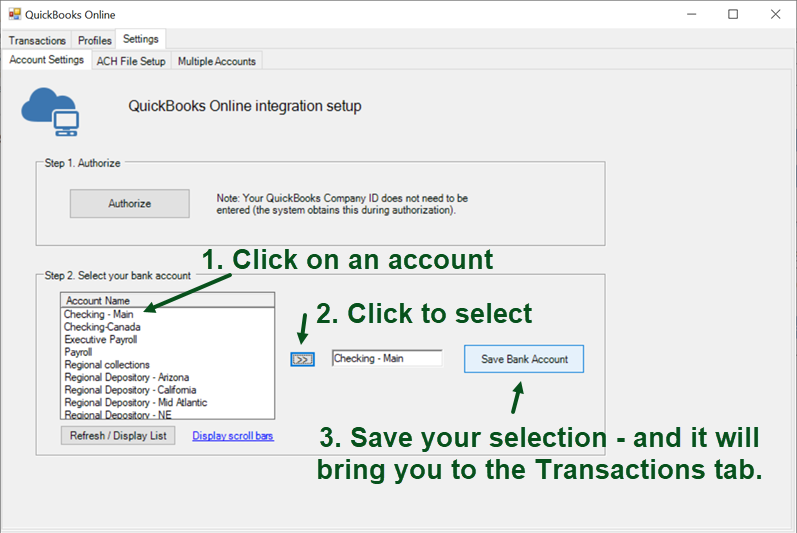 III. Working with Transactions from QuickBooks Online
On the Transactions tab, select a date range that has transactions in your account and click 'View'.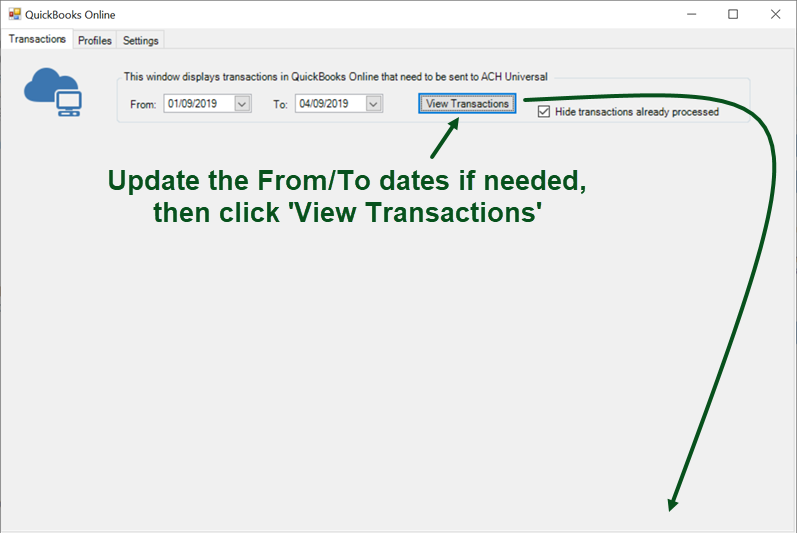 Here you can view all available transactions - and select which transactions are going to be included in the ACH/EFT File (suppress temporarily, permanently or include/over-ride).

As the Sample account in Treasury Software automatically adds sample banking information (account number, ABA routing number and checking/savings indicator) for each transaction, do not use the Sample account for live/production data.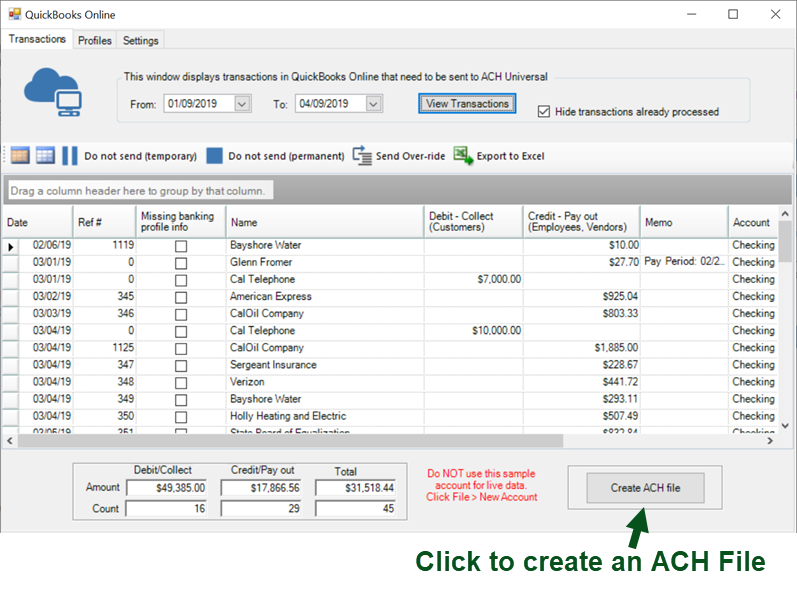 Sure why not - let's view the file.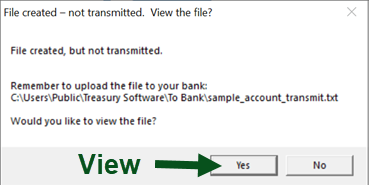 This is the ACH File you created.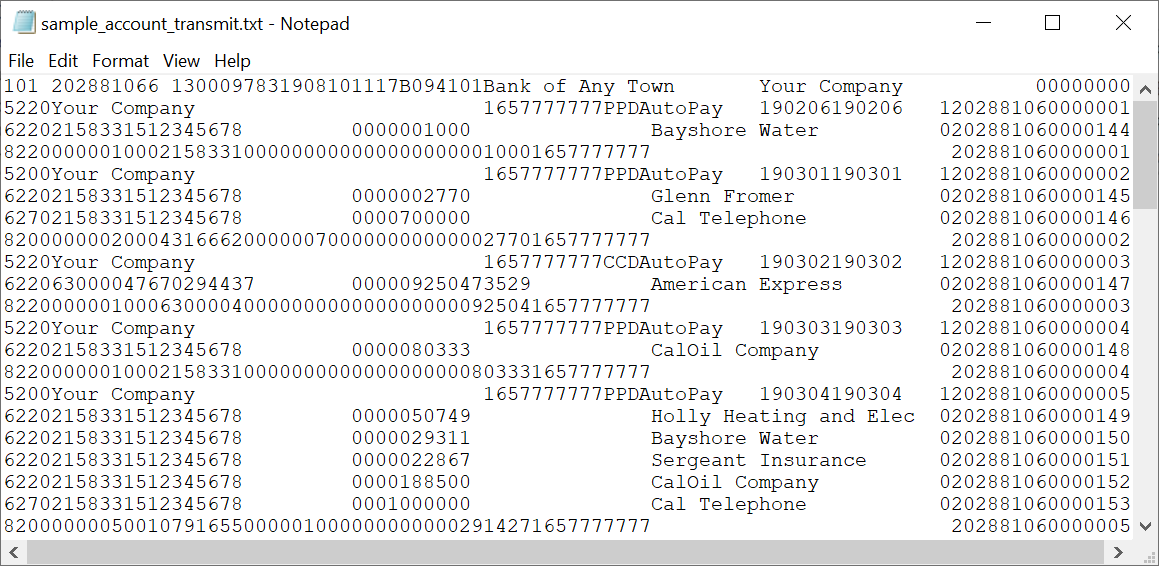 All Done - congratulations!!!!



IV. Profiles - How they hold banking information and the differences between this Sample account and an account with Live/Production Data


What the Sample and Live accounts have in common
Profiles hold the banking data for each Customer, Employee and Vendor.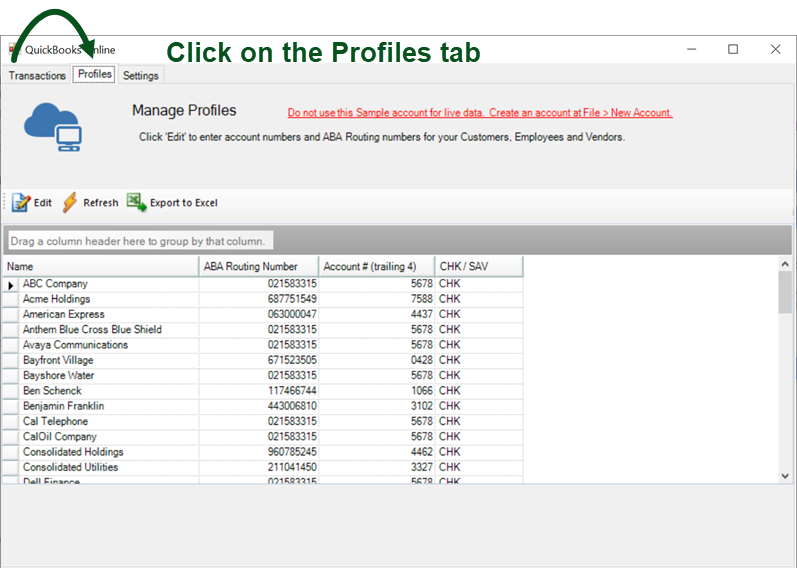 To view/edit a profile, select the profile - then click 'Edit'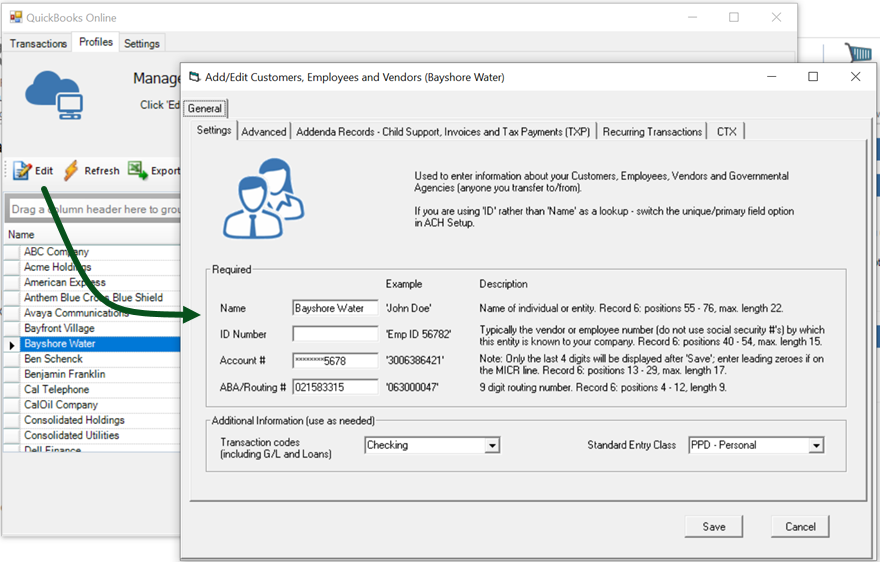 How profiles are automatically added
Profiles are automatically created / added when you click 'View Transactions' from the Transactions tab.
If a profile already exists for the Customer/Employee/Vendor - no profile is added.
If a profile does not exist, the system will create one.

How the Sample account is different from Live/Production accounts
Sample Account: When a profile is automatically created in the Sample account (during 'View Transactions') - the system will populate the banking information with sample/fictitious data.

Live/Production Account: The system will populate the name of the profile only.
The banking information will remain empty until you populate it.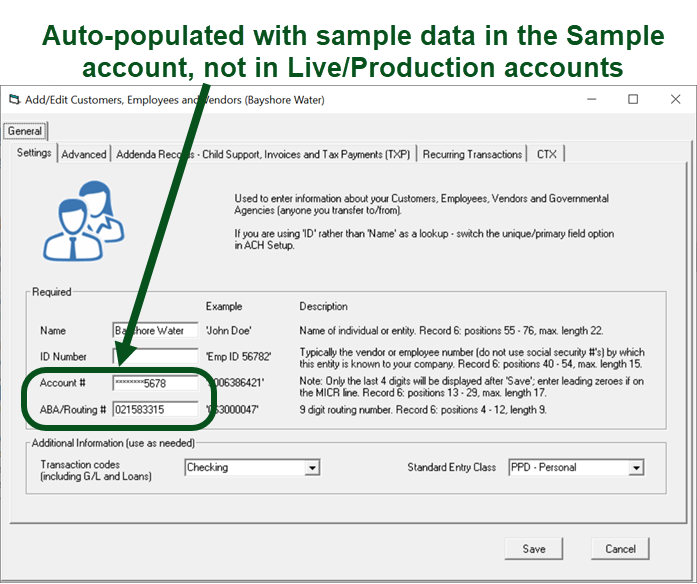 V. Encryption/Security
Starting with ACH Universal 2020, encryption is turned on by default for all QuickBooks Online users.

ACH Universal is compliant with proposed Nacha Encryption Rules for large processors - and can encrypt (AES-256) the account number.

Please note that this election has no effect on your QuickBooks Online data stored in the cloud by Intuit.
Intuit and QuickBooks are registered trademarks of Intuit Inc. Used with permission.