Troubleshooting Importing of Excel files
You may have a corrupt Excel file (xls, xlsx) - please try to open the file with Excel.
If you are unable to open the file within Excel, stop here.
Please try to obtain a backup file, recreate it or fix it with a utility.

If you are able to open the file in Excel, please continue.

Please follow the instructions on this page if you are unable to import the Excel file, but are able to 'copy and paste' your data in.
This help page can help you if - you get an error message similar to: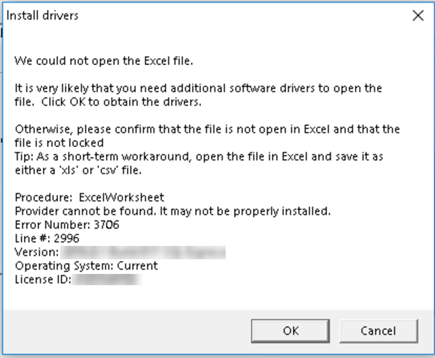 Note: You can import Excel files (xls and xlsx files), even if you do not have Excel installed on your computer. This is an issue of having the proper drivers.

Next steps
A. Download and install the appropriate drivers
Installation order:
1. https://www.treasurysoftware.com/Setup/vc_redist.x86.exe
If when installing, the system already states that it is installed, no need to proceed further with this installation. This #1 file (or an earlier installation) is simply a prerequisite for the file below.

2. https://www.treasurysoftware.com/Setup/AccessDatabaseEngine.exe
You should now be good to import Excel files.

However - if during the installation of #2 above, you receive an error similar to (below), you'll need to follow the steps to clear up a 64 bit vs. 32 bit installation.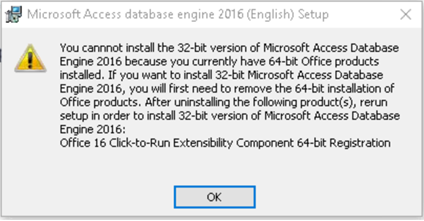 Clearing up a 64 bit vs. 32 bit installation.
Treasury Software products are 32 bit products and require 32 bit drivers to integrate with Microsoft Office products.
The vast majority of Microsoft Office installations are 32 bit - and there is a quick resolution to this issue.

Even though your Office installation might be 32 bit, the 'One-click Installer' can be 64 bit.
You just need to:
--uninstall the One-click Installer
--install files #1 and #2 noted above.
Step by step instructions are below.
Go to Start > Run (or Windows key + R)
Type "installer" (that opens the windir installer folder), make sure all files are visible in Windows (Folder Settings)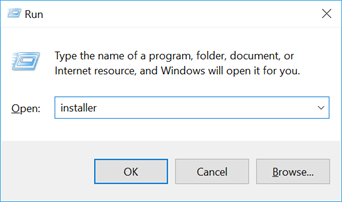 Add the column "Subject" (and make it at least 400 pixels wide) – Right click on the column headers, click More, then find Subject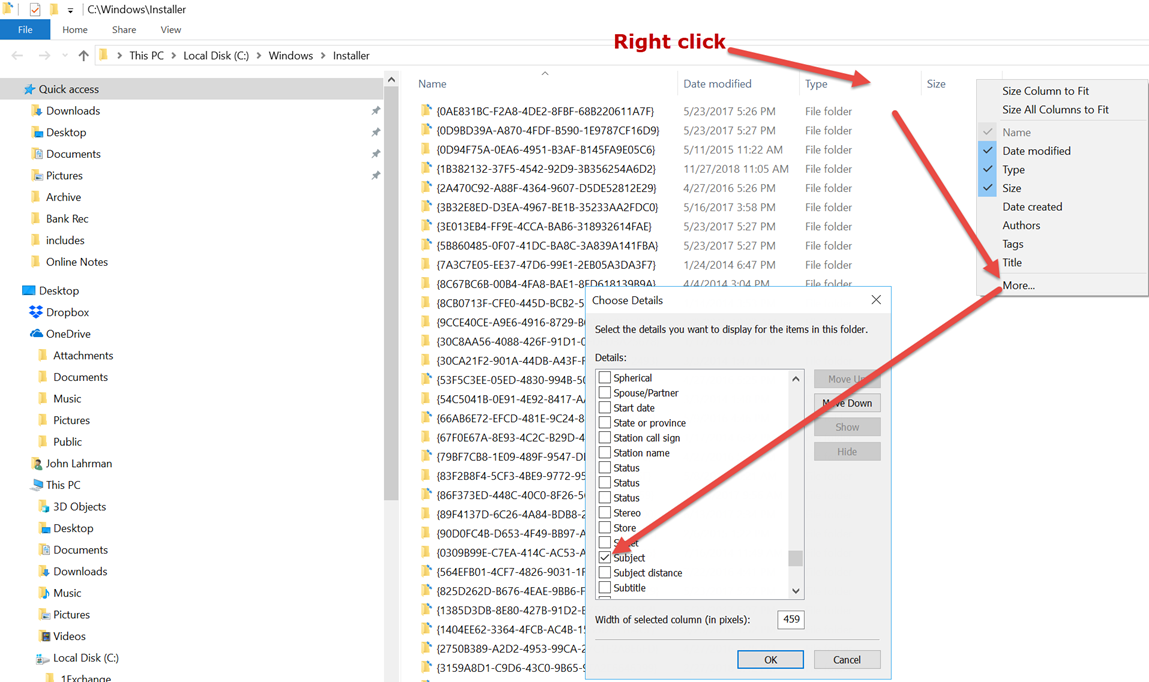 Sort on the Subject column and scroll down until you locate the name mentioned in your error screen ("Office 15, 16 or later version Click-to-Run Extensibility Component")
Right click the MSI and choose uninstall. Then try your installation again.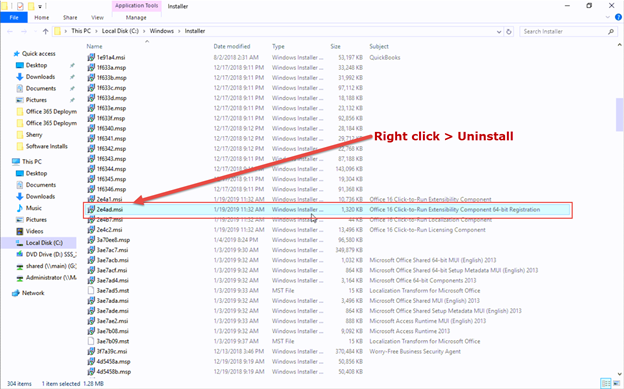 Note:
If Microsoft Office 64 bit is installed (very rarely), you will need to uninstall Office, install our software - and possibly reinstall files #1 and #2 noted above - and then re-install Office.
External Link references:
https://answers.microsoft.com/en-us/msoffice/forum/msoffice_install-mso_win10/office-16-click-to-run-extensibility-component-64/e79ee5bd-f119-4808-9bb2-289dd815b76a?auth=1
https://fs-cpa.zendesk.com/hc/en-us/articles/360012090932--Can-t-Install-Office-16-Office-16-Click-to-Run-Extensibility-Component-Installed
https://ittechsolution.com/fix-ms-office-setup-error-office-16-click-run-extensibility-component/