Select the Delete Entire Import icon on the Home tab main menu bar.

Select the import you want to delete by clicking on the triangle in the far left which will highlight the row in blue.

Once the import is selected, click on the red "X" to delete that import.

Confirm the deletion.

Once the import is gone you can re-import your data.
If you do not delete an import:
and you reimport an Excel or CSV file with the same data, the system will tell you that the data was already imported. You will need to confirm that you do want to import again to process a new file.

and you are integrating with QuickBooks, when clicking on the Integration icon, entering the date range and 'View Transactions', you can uncheck the box that says 'hide transactions already processed' and all transactions within that date range will populate again. You will highlight the rows in blue to include them again (by clicking on the triangle to the left of the date), and click "send (over-ride)".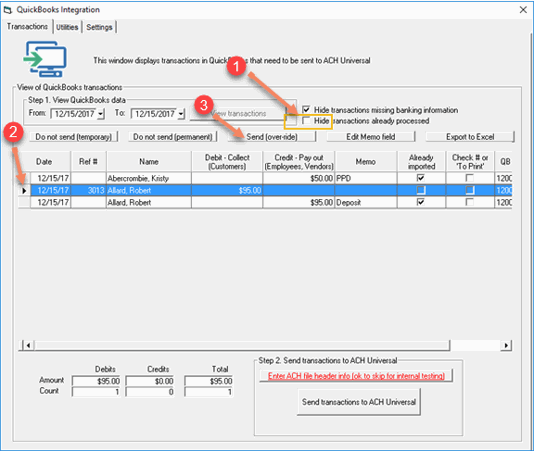 The system will provide a pop-up message that those transactions will be included in the next file when you click "Send transactions to ACH Universal".