We can certainly assist you with getting started. However, we do have some video tutorials that are embedded on the Quick Start page in the software. These videos can also be found at the following URL:
http://www.treasurysoftware.com/Support/videos.aspx
We do encourage our users to watch the videos as they will provide a great overview of how to get started. 
 The following STEPS below are to help you get started.  At anytime you feel that you need assistance please feel free to CONTACT US!
Step One:

If you are NOT sharing your ACH Universal database and you plan to install your software on your workstation, please download the DESKTOP software using this link: Click here to download.
Then move to Step Two DESKTOP
OR
If you plan to share a database with two or more people, go to Step Two WORKGROUP or ENTERPRISE; you will want to use a SQL Express (Work Group) or SQL Server (Enterprise) database engine. (Check with your IT staff if you are not sure.)
If using a SQL Express, please be sure to download the Workgroup (or bundled) version of the software.  The SQL Express requires the "Workgroup" version when licensing.
If using a SQL Server, you will need a SQL Admin or DBA to assist during the setup. The SQL Server requires the "Enterprise" version when licensing.
Step Two DESKTOP:
Create a new account to work in rather than using the Sample account.  [File->New Account->Create an Account... give it a name and continue through the wizard until Finished.]   For most setups, you will only need to fill out the information on screen 2 of the setup.
Step Two WORKGROUP or ENTERPRISE:
When the software starts up you should select ACH Universal, and then the SAMPLE Account will open up.  Then you will want to migrate to your SQL Express/SQL Server.
Click on Settings->Migrate to SQL Express, SQL Server... and continue through the wizard. 
Note: You will need to know your PC or Server name where the databases will be housed.  Check with your IT department if you are not sure.
Step Three: 
If you are in the U.S., complete the ACH File Setup wizard.  [On screen 2, click the 'Advanced Setup' radio button to continue to screens 3 and then 4.  Then click Finished.]
If you are in Canada, complete the Canadian Setup by clicking on the red maple leaf icon in the toolbar.  Be sure to scroll all the way down the page to review all options.
Step Four:  Import the data
If you will be integrating with QuickBooks Desktop, you will click the 'Pro, Premiere, Enterprise Integration' icon in the toolbar and go through the integration wizard.  Note:  The first time you are integrating with QuickBooks, you must be logged in with Admin credentials and be in Single-User mode.  After the integration, enter into your QuickBooks profiles and--under the 'Additional Info' tab--add the bank account information to each vendor, employee, or customer profile.  Once the bank information is entered, in ACH Universal, click on the QuickBooks Integration (Pro, Premiere, Enterprise) icon.
If you are a QuickBooks Online user, please refer to this link: QuickBooks Online
All non-QuickBooks users will be importing an Excel or CSV file with the required data.  From the main screen, you will click on 'Import Transactions', select your import file, and map the headers of each column during the initial import (see below).  To map the columns, simply click on the column and select the appropriate header from the dropdown.  To create a basic ACH file you only need to map the 'Name', 'Amount', 'ABA Number', and 'Bank Account Number'.  If you are interested in sending remittance emails, you will include and map the 'Email Address' column as well.
Note:  Disbursement amounts that are shown as positive numbers must be mapped as "Amount Reverse Sign".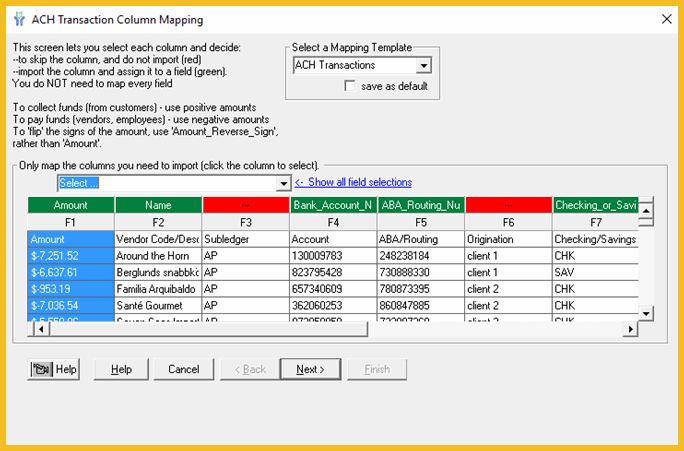 Optional:  ACH Universal has built-in email functionality so automatic emails can be sent to ACH recipients notifying them of the transaction details.  This feature is available with the Corporate or Processor edition license.  This link explains how to set up the email feature:
If you have not yet installed the software, this link will provide step-by-step instructions: 
http://treasurysoftware.com/Support/support2-Install-Center.aspx
Please contact us if you require assistance.