Banks will often need to know whether your ACH transactions are for business/corporate entities or individuals/consumers. This identification is the 'SEC Code' on an ACH file.
The most common SEC Codes are CCD and PPD.
If paying business vendors, you will want to identify those entities as 'CCD'.
If paying direct deposits for payroll, those individuals will be 'PPD'.
For Checking accounts, use 'CHK'
For Savings accounts, use 'SAV'
If nothing is entered, it will default to a checking account - and the SEC code will be the system default entered in ACH Setup.

If you are storing the Profiles in QuickBooks, in the CHK/SAV field, you can enter
PPD - for PPD Checking
CCD - for CCD Checking
Common entries (single):
CHK
SAV
PPD
CCD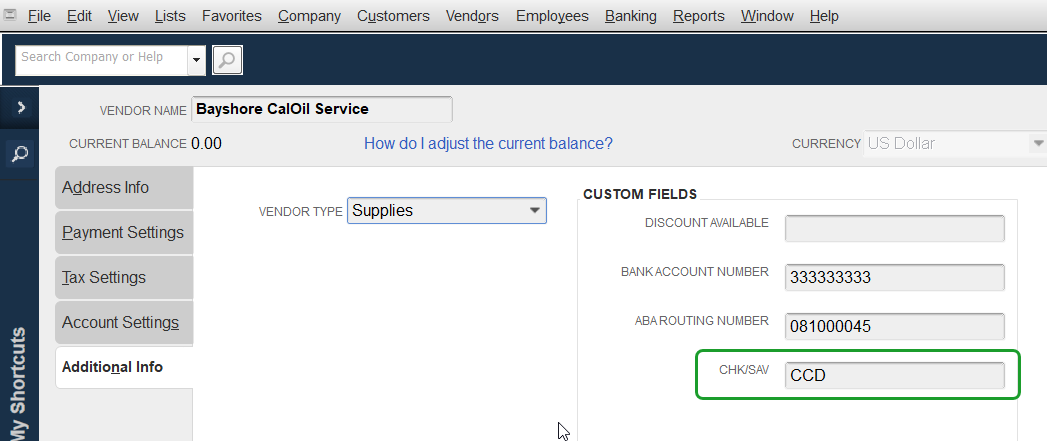 Multiple entries - Combine with a comma
You can also combine entries with a comma between them (doesn't matter if there is a space before/after the comma). The order does not matter. Note: A comma is required!
PPD,CHK
CCD,CHK
PPD,SAV
CCD,SAV



(Rare) Advanced codes to enter into:
To create GL entries for transaction codes 42/47, enter either:
GL
40

To create Loan entries for transaction codes 52/55, enter either:
LOAN
50
Note: If you are storing profiles within ACH Universal (not in QuickBooks), see profiles.